Building Solutions
Hearing Augmentation is the transmission of audio information to a listener's hearing aid, enabling those with a Hearing Impairment to access quality audio.  The international standard of communication is the Telecoil, however Australian children typically get Roger Hearing Aids or Receivers. In addition, there are emerging types of communication to compliment a compliant hearing augmentation system and make it more accessible such as WiFi.
The standard types of Hearing Augmentation are :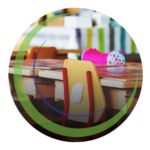 Is my new building Hearing System compliant?
Hearing Augmentation is governed in Australia NCC 2019 Building Code of Australia – D3.6 & D3.7
When is hearing augmentation required?
AS1428.5-2010 (R2016) requires a hearing augmentation system to be provided where an in-built amplification system such as telecommunications systems, EWIS system, public address system and telephone services are installed in a public building or space designed for 5 or more people. D3.7 further classifies a class 9b building with in-built amplification as requiring hearing augmentation. Typically churches, meeting rooms, classrooms, halls and auditoriums with in-built speakers, TV's and PA Systems will require hearing augmentation.
Your building surveyor, architect or electrical engineer will be able to confirm if the space falls into this category.
Minimum Compliant Specification (Small Rooms)
In classrooms and other small spaces, we recommend the Roger Media Hub is used in combination with the Roger Neckloop Receivers and other items to achieve compliance.
We generally recommend Roger Hearing Augmentation for the following reasons:
Optimum performance & increased compatibility with a children's hearing aids as they use the same technology,
Minimal wiring required / low installation cost,
No interference / feedback issues with metal structures, other technology, music equipment,
Children have no need for a neck loop, reducing stigma and increasing uptake, and simultaneously reducing number of neck loops required therefore decreasing cost,
Simple maintenance / support (no need to remove carpet or redo wiring),
Expandable to a Soundfield solution to benefit all children including covering the teachers voice (normal hearing, and hearing impaired),
Not dependant on T‐coil in hearing devices. Majority of children hearing instruments will not have T‐coil activated by their audiologist.
Download  GLA Installation Guide
Elite Learning & Special Schools
The use of a Soundfield Speaker has a proven impact on the ability of a student to concentrate and understand the teacher in a classroom environment.  Use of the soundfield allows the teacher to hear and actively manage the sound in the classroom to get the best outcome for their voice and the students learning.  In a classroom, the Roger system can be expanded to include a Soundfield Speaker, Roger Touchscreen Teacher Microphone, Roger Media Hub and other items that greatly enhance the listeners experience, whilst forming a compliant hearing augmentation solution.
We especially recommend this solution in Elite Education and Special Schools where concentration and clarity are pivotal to their success.
Portable Hearing Augmentation Systems
Portable Hearing Augmentation Systems are ideal for an organisation that wants to be more inclusive. The portable systems can be used for events, outdoor areas, community facilities. They are easy to use and have 8 hours battery life.
AS1428.5 recommends that Hearing Augmentation is available at all reception desks, tellers amd counters. There are a range of user friendly, fixed or portable Cross-the-Counter  solutions that include microphones and allow people of all shapes and sizes to communicate freely with those with a hearing impairment.
Let us help you
Knowing the best design for a space is a job for an expert, so let us help you.
Just fill in the form below and give us as much detail as you can about your project.  We will then get in touch with some options for you.